How to export data from streams
Exporting data
As soon as you log into your WOEXA dashboard, you'll be able to see all of the streams you've already set up. To find the particular one you want to export, you can use the search bar on the left hand side, or just scroll through your list until you find the one you want.
Click into the stream that you wish to export data from, and select the drop down menu which is located on the top right-hand side of your dashboard. Then select 'Export Stream'.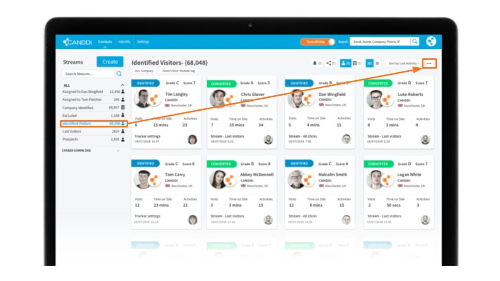 You can then start to filter the data you want to see within your export. If you want to export the data from more than seven days ago, select the top drop down box and choose your export date range. You can pick from seven days ago, a month ago, or your own custom dates.
You can also pick what data columns you'd like to see in your list view. All you have to do is click the export fields in columns drop down, where you'll be presented with a number of options.
This includes name, contact details, session activity, etc. You can pick what's right for you.
Also, if you're regularly running exports of streams, you can schedule them to run every couple of days.
Once you're happy with your setup, click export stream. This export will remain available for two weeks from creation and can be downloaded at any point in that time from Exports where you can choose what file format you want to download.
Unexpected field names
Sometimes you might notice a field name that you didn't include in your original export. This is typically 'Count: Company Name' (or 'Count: [any other field name]').
This is included because sometimes WOEXA has multiple Company Names for the same visitor.
We can only display one of these in the export so we pick the primary one. However we want to let you know there are multiple so that you can investigate further if you need to.
Should you need any help with your exports, drop us a line and we'll be happy to help! help@woexa.com